Amramp
Get Your Free Estimate!
Summerville
SC
29483

Tel: 854-202-5111
Web: https://www.amramp.com/franchises/south-carolina/
Email: allen.cates@amramp.com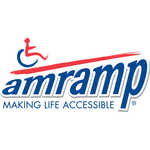 Amramp
Amramp is the nation's leading source of accessibility solutions. Our goal is to make your life more accessible. We provide both commercial and residential wheelchair ramps to make access easy. We also have a full line of lifts including chair lifts, pool lifts, spa lifts and stair lifts. Let us help you be more mobile! Allen Cates, owner of the Charlotte-area and South Carolina franchises, serves Amramp clients from Asheville to Greensboro, NC and all surrounding areas and all of South Carolina. Allen's team takes pride in knowing that a wheelchair ramp can truly improve people's lives. Allen's team also supports the MDA Muscle Team fund-raiser, enabling accessibility for a portable stage at the Bank of America Stadium.

Categories: hospital equipment & supplies
Products & Services
Our Products
Portable Handicap Showers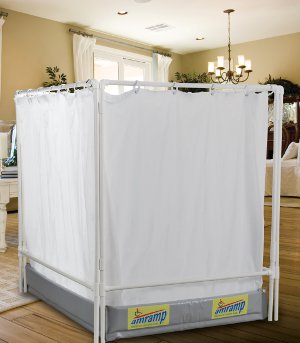 Affordable, indoor portable roll in showers for people with mobility challenges. Use anywhere warm water is available in the home. No plumber required, they adapt to existing faucets. Easily to clean and sanitize. Can be easily stored between uses.

Url: https://www.amramp.com/residential/residential-portable-showers/

Vertical Platform Lifts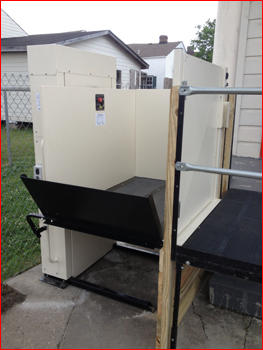 Vertical & inclined platform lifts are essential for gaining access to raised entries in and around your home. Weatherproof for indoor and outdoor use. Models from 4 to 14 feet for residential or commercial use. Meet ASME standards. Platform lift installation is quick and easy.

Url: https://www.amramp.com/residential/platform-lifts/

Pool Lifts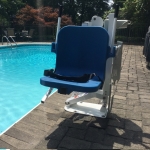 Amramp's pool and spa lifts are the perfect solution for both in ground and above ground pools. ADA compliant with a limited lifetime warranty. Completely portable units available with no anchors required. Up to 600 lbs. capacity. Residential or commercial models available.

Url: https://www.amramp.com/residential/residential-pool-lifts/

PromenAid Handrails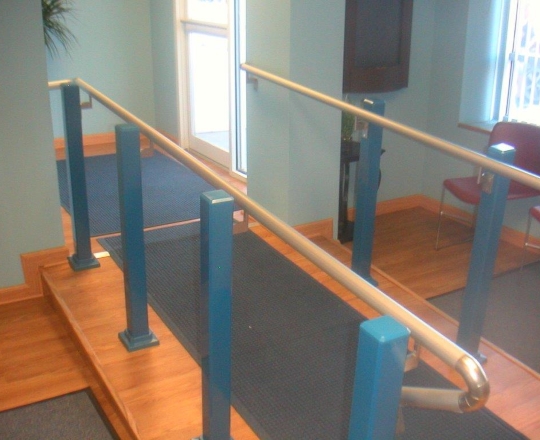 Strong, easy to install and versatile handrails for continuous support anywhere in the home or office, indoors or outdoors. Meets residential, commercial and industrial code. ADA compliant. Each bracket supports 500 lbs.

Url: https://www.amramp.com/commercial/commercial-railings/

Grab Bars


Superpole and safety grab bars provide assistance in any room for almost any task. Many sizes and models available.

Url: https://www.amramp.com/commercial/grab-bars/

Stair Lifts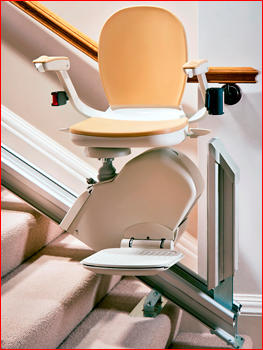 If you or a loved one have difficulty with stairs, then a Stairlift from Amramp will make a big difference in your life. Get full access to multi floor homes. Indoor & outdoor models available. Curved units and custom designs are also available.

Url: https://www.amramp.com/residential/residential-stair-lifts/

Modular Wheelchair Ramps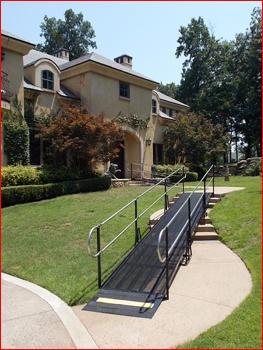 Made of durable steel that makes it fireproof. Unique open mesh ramp surface allows moisture to pass through, reducing the possibility of dangerous ice forming on the surface. Raised gripping pattern makes our ramps slip resistant. Our patented bolt together system usually does not require a building permit or excavation on your property. Made in the USA from 100% recyclable steel. Available for rent or purchase.

Url: https://www.amramp.com/residential/residential-modular-ramps/

Threshold Ramps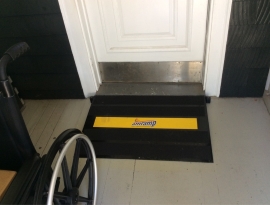 Threshold ramps ideal for those utilizing a wheelchair, mobility scooter or walker to navigate through doorway and raised landings. ADA compliant, 100% green product. Custom colors available.

Url: https://www.amramp.com/residential/residential-threshold-ramps/

Overhead Patient Lifts


Overhead patient lift system provides safety and accessibility for people with limited mobility. Our patient lifts for home use are free standing and can be used in almost any room. Reduce the risk of injury for both the patient and caregiver. Several models available.

Url: https://www.amramp.com/residential/residential-overhead-patient-lifts/

Automatic Door Opener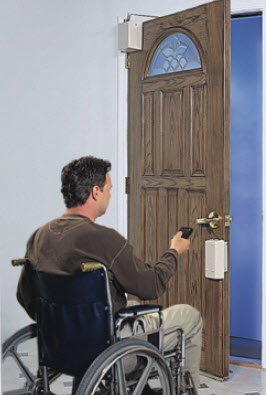 Easily attaches to any standard interior or exterior door, even doors with weather stripping. Can still be opened with a key. No special, costly wiring. Safe, secure and easy to use push button.

Url: https://www.amramp.com/commercial/automatic-door-openers/

Portable Ramps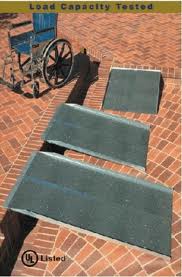 Durable and easy to use portable ramps for wheelchairs and mobility scooters. Available for indoor and outdoor use. Great solution for homes or businesses with low rise entrances. Ranging in size from 2 to 12 feet. Easily carried, folded and stored.

Url: https://www.amramp.com/residential/residential-portable-ramps/

Our Services
Portable Handicap Showers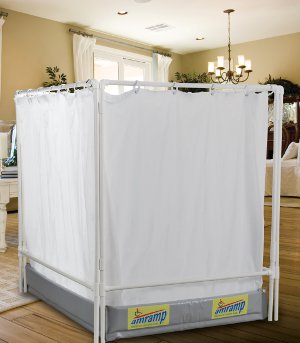 Affordable, indoor portable roll in showers for people with mobility challenges. Use anywhere warm water is available in the home. No plumber required, they adapt to existing faucets. Easily to clean and sanitize. Can be easily stored between uses.

Url: https://www.amramp.com/residential/residential-portable-showers/

Vertical Platform Lifts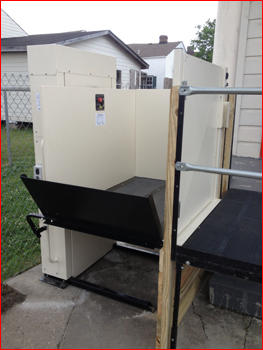 Vertical & inclined platform lifts are essential for gaining access to raised entries in and around your home. Weatherproof for indoor and outdoor use. Models from 4 to 14 feet for residential or commercial use. Meet ASME standards. Platform lift installation is quick and easy.

Url: https://www.amramp.com/residential/platform-lifts/

Pool Lifts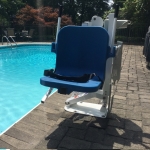 Amramp's pool and spa lifts are the perfect solution for both in ground and above ground pools. ADA compliant with a limited lifetime warranty. Completely portable units available with no anchors required. Up to 600 lbs. capacity. Residential or commercial models available.

Url: https://www.amramp.com/residential/residential-pool-lifts/

PromenAid Handrails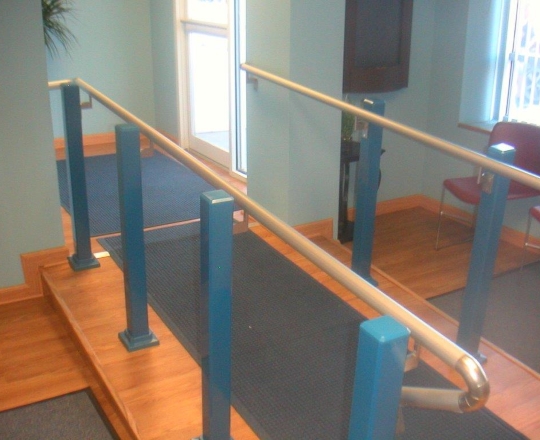 Strong, easy to install and versatile handrails for continuous support anywhere in the home or office, indoors or outdoors. Meets residential, commercial and industrial code. ADA compliant. Each bracket supports 500 lbs.

Url: https://www.amramp.com/commercial/commercial-railings/

Grab Bars


Superpole and safety grab bars provide assistance in any room for almost any task. Many sizes and models available.

Url: https://www.amramp.com/commercial/grab-bars/

Stair Lifts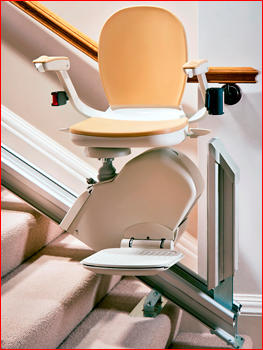 If you or a loved one have difficulty with stairs, then a Stairlift from Amramp will make a big difference in your life. Get full access to multi floor homes. Indoor & outdoor models available. Curved units and custom designs are also available.

Url: https://www.amramp.com/residential/residential-stair-lifts/

Modular Wheelchair Ramps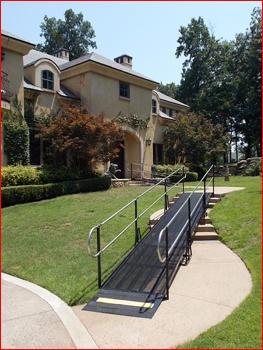 Made of durable steel that makes it fireproof. Unique open mesh ramp surface allows moisture to pass through, reducing the possibility of dangerous ice forming on the surface. Raised gripping pattern makes our ramps slip resistant. Our patented bolt together system usually does not require a building permit or excavation on your property. Made in the USA from 100% recyclable steel. Available for rent or purchase.

Url: https://www.amramp.com/residential/residential-modular-ramps/

Threshold Ramps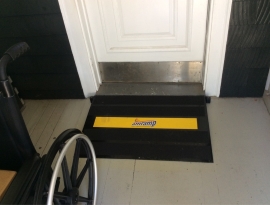 Threshold ramps ideal for those utilizing a wheelchair, mobility scooter or walker to navigate through doorway and raised landings. ADA compliant, 100% green product. Custom colors available.

Url: https://www.amramp.com/residential/residential-threshold-ramps/

Overhead Patient Lifts


Overhead patient lift system provides safety and accessibility for people with limited mobility. Our patient lifts for home use are free standing and can be used in almost any room. Reduce the risk of injury for both the patient and caregiver. Several models available.

Url: https://www.amramp.com/residential/residential-overhead-patient-lifts/

Automatic Door Opener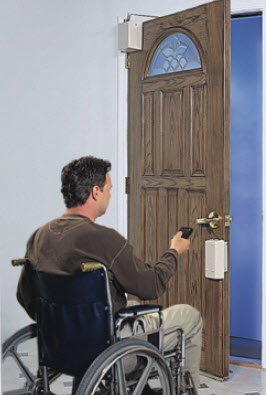 Easily attaches to any standard interior or exterior door, even doors with weather stripping. Can still be opened with a key. No special, costly wiring. Safe, secure and easy to use push button.

Url: https://www.amramp.com/commercial/automatic-door-openers/

Portable Ramps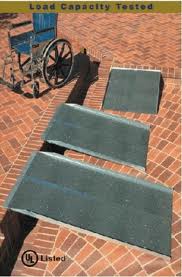 Durable and easy to use portable ramps for wheelchairs and mobility scooters. Available for indoor and outdoor use. Great solution for homes or businesses with low rise entrances. Ranging in size from 2 to 12 feet. Easily carried, folded and stored.

Url: https://www.amramp.com/residential/residential-portable-ramps/

Additional Contact Information
Fax: 1-866-384-9989
Free Phone: 1-888-715-7598

Opening Hours
Monday: 09:00 to 17:00
Tuesday: 09:00 to 17:00
Wednesday: 09:00 to 17:00
Thursday: 09:00 to 17:00
Friday: 09:00 to 17:00
Saturday: Closed
Sunday: Closed

Pictures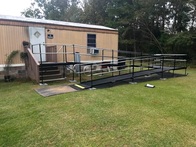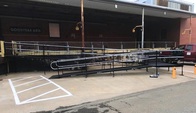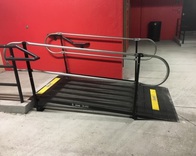 More information
Associations: Manufacturers and Suppliers Council, National Association of Housing and Redevelopment Officials, National Association of Home Builders
Products: Wheelchair Ramps, Stair Lifts, Mobility Lifts, Pool Lifts, Portable Showers, Portable Ramps, Threshold Ramps, Overhead Patient Lifts, Grab Bars, Automatic Door Openers, Protective Mesh Matting
Specialities: Free Quotes, Free On Site Evaluations, Quick Delivery, Installed In Days, ADA Compliant, Affordable, Special Event Ramps, Fireproof
Languages spoken: English
Services include: Wheelchair Ramp Installation, Wheelchair Ramp Rentals, Stair Lift Installations, Mobility Lift Installation, Pool Lift Installation