Duff & Phelps
"Contact us to speak to one of our professionals."
55 East 52nd St.
31st FL
New York
NY
10055

Tel: 212-871-2000
Web: http://www.duffandphelps.com
Email: michael.dolan@duffandphelps.com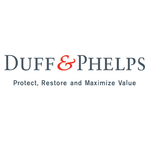 40.759068112539
-73.973613381386
Accurate to within approximately 300 feet. Click here to see a larger map
Duff & Phelps
Duff & Phelps is the global advisor that protects, restores and maximizes value for clients in the areas of valuation, corporate finance, investigations, disputes, cyber security, compliance and regulatory matters, and other governance-related issues. We work with clients across diverse sectors, mitigating risk to assets, operations and people. With Kroll, a division of Duff & Phelps since 2018, our firm has nearly 3,500 professionals in 28 countries around the world.

Categories: financial services Keywords: duff & phelps, duff and phelps, financial advisor, global financial services, Valuation Services, Compliance and Regulatory Consulting, Business Valuation, Derivatives Valuation, Intellectual Property Valuation, Strategic Value Advisor, Tax Valuation, Property and Tax Risk Advisory, Transfer Pricing, Transfer Pricing Expert Services, Disputes and Investigations, Global Data Risk, Corporate Finance, Merger and Acquisitions, Consumer Merger and Acquisitions, Energy and Mining M&A, Healthcare M&A, Real Estate M&A, Technology M&A, Fairness Opinions, Solvency Opinions, Transaction Advisory Services, ESOP and ERISA Advisory, Private Capital Markets, Distressed M&A and Special Situations, American Appraisal, Tax Services, Cyber Security, Kroll Partner, Corporate Restructuring, Debt Advisory, Cyber Forensics, Real Estate Advisory Group, Foreign Corrupt Practices Act, Compliance Consulting, Regulatory Consulting, Tax Compliance, Restructuring Advisory Firms
Opening Hours
Monday: 08:00 to 18:00
Tuesday: 08:00 to 18:00
Wednesday: 08:00 to 18:00
Thursday: 08:00 to 18:00
Friday: 08:00 to 18:00
Saturday: Closed
Sunday: Closed

More information
Established in: 1932
Products: Cost of Capital, Due Diligence Report Wizard, Kroll CyberDetectER®, Kroll Compliance Portal, Valuation Insights Industry Market Multiples, State Assessment Tool, MAST: MiFID II Analyser Solution and Tracker, BEPS Central Tracker
Services include: Valuation Advisory, Corporate Finance, Compliance and Regulatory Consulting, Cyber Risk, Governance, Risk, Investigation and Disputes, Business Intelligence and Investigations, Compliance Risk and Diligence, Identity Theft and Breach Notification, Security Risk Management