Kasey's Tire & Auto
Bring your car in for new tires and more!
1308 SW 2nd Street
Lawton
OK
73501

Tel: 580-699-3030
Web: http://kaseystireandauto.com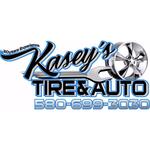 34.59241
-98.39013
Accurate to within approximately 300 feet. Click here to see a larger map
Kasey's Tire & Auto
Don't Let a Flat Tire Keep You Off the Road
VISIT US FOR AUTO REPAIR AND OIL CHANGES IN LAWTON, OK

Are you experiencing car trouble? You need technicians who can give your vehicle the time and attention it needs. You also need technicians who are experts at diagnosing your problem and providing long-lasting repairs or replacements. You can find those mechanics at Kasey's Tire & Auto in Lawton, OK.

Kasey's Tire & Auto is a family-owned and operated auto repair shop in Lawton. Our owner has more than 20 years of experience to handle all of your car problems. Our technicians are Automotive Service Excellence tire certified. We focus on providing high-quality work for our customers. Hire us today to take advantage of our experience.

Categories: auto body repair, tire distributors, auto repair & service, auto parts & accessories Keywords: auto repair lawton ok, auto repair shop lawton ok, tires lawton ok, tire shop lawton ok, new tires lawton ok, brakes lawton ok, brake repairs lawton ok, replacement brakes lawton ok, wheel alignments lawton ok, shocks lawton ok, oil changes lawton ok, car battery replacement lawton ok, tire rotations lawton ok, custom wheels lawton ok, lift kits lawton ok
Tire & Auto Services
Tires
Kasey's Tire & Auto carries all major tire brands, including:

BFGoodrich
Toyo
Michelin
Nitto
Goodyear

If we don't have what you need in stock, we'll be glad to order it for you. We will beat any tire price in town! Call us today at 580-699-3030 to find out if we have the tires you're looking for. You can set up an appointment or just swing by. We welcome walk-ins.

Url: http://kaseystireandauto.com/tires/

Brake Repairs and Replacements
There are a few signs you can look for to determine if your brakes need to be examined by our certified technicians. The brake light glowing on your dashboard is an obvious sign. You might also feel that your car is taking too long to stop. Here are some other indicators:

Squealing or grinding sounds
A vibrating brake pedal
A brake pedal that's too sensitive or unresponsive
Your car pulls to the side while you're driving or braking

Url: http://kaseystireandauto.com/brakes/

Wheel Alignments
There are a few ways to tell if your tires are out of alignment. If you're experiencing any of the following problems, visit us today:

Uneven tread wear
An off-center steering wheel when you're driving straight
If your vehicle pulls while driving

Url: http://kaseystireandauto.com/alignments/

Oil Changes
Has your odometer gone past the recommended mileage number on your oil change sticker? Don't let slow, unprofessional service stop you from getting an oil change. The expert technicians at Kasey's Tire & Auto in Lawton, OK can change the oil in your car and get you back out on the road in a timely manner.

Without oil acting as a lubricant in your engine, the heat from the friction of your engine's metal parts rubbing together could weld the parts together. Your engine will seize, and you won't be able to get anywhere. Don't let your engine get to that point. Visit Kasey's Tire & Auto for regular oil changes to keep your engine in top condition.

Url: http://kaseystireandauto.com/oil-changes/

Opening Hours
Monday: 08:00 to 17:00
Tuesday: 08:00 to 17:00
Wednesday: 08:00 to 17:00
Thursday: 08:00 to 17:00
Friday: 08:00 to 17:00
Saturday: Closed
Sunday: Closed

More information
Products: BF Goodrich Tires, Toyo Tires, Michelin Tires, Nitto Tires, Goodyear Tires
Services include: Oil Changes, Tire Rotation, Alignments, Brake Repair, Brake Replacement