Apex By Sunglass Hut
Click Here to Shop Online & for Free Shipping
4800 S Hulen St
Spc 2085
Fort Worth
TX
76132
Find Us: Hulen Mall

Tel: 817-370-6363
Web: http://apex.sunglasshut.com/tx/fort-worth/4800-s-hulen-st.html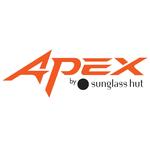 32.678440367194
-97.398357950224
Accurate to within approximately 300 feet. Click here to see a larger map
Apex By Sunglass Hut
Shop Apex by Sunglass Hut for lifestyle, active and sport sunglasses from the most popular brands on the plant. Free shipping all online orders.

Categories: sunglasses & sun goggles, clothing stores
APEX SGH Products and Services
Product and Services
In-Store Technology
In-Store Technology:
- APEX's proprietary wind and glare simulator brings the outdoors inside! Experience wind and glare first hand inside the store from a first-person perspective.
- Test polarized lenses to see exactly how much glare is blocked out.
- Feel how wrapped lenses and frames deflect wind, resulting in a more comfortable outdoor experience.


Lenses for Light Environments
Lenses for Light Environments:
- FLAT LIGHT: To optimize your vision in flat light conditions, such as overcast or very cloudy, choose a low light lens tint that will help boost contrast and depth perception. Top APEX Gearu lens tint picks for flat light conditions: Yellow, Persimmon, Amber and Light Rose
- BRIGHT SUNLIGHT: Bright light can cause discomfort, eye fatigue and eye damage. Choose a dark neutral or contrast lens tint with a mirrored coating to protect against the sun's menacing bight light. Top
APEX Gearu lens tint picks for bright light conditions: Dark Grey, Dark Green and Dark Bronze.
- INTENSE SUNLIGHT: Intense sunlight and reflective light known as glare can cause discomfort and momentary blindness that can lead to accidents. Choose dark tinted, polarized lenses with a mirrored coating to block the sun's barrage of intense light while enjoying your favorite outdoor activity. Top APEX Gearu lens tint picks for intense light conditions: Dark Grey Polarized, Dark Green Polarized and Dark Bronze Polarized.


Brands
Brands:
- Arnette, Costa, Emporio Armani, Gucci, Maui Jim, Oakley, Persol, Prada, Prada Linea Rossa, Ray-Ban, Ray-Ban Jr., Revo


Opening Hours
Monday: 10:00 to 21:00
Tuesday: 10:00 to 21:00
Wednesday: 10:00 to 21:00
Thursday: 10:00 to 21:00
Friday: 10:00 to 21:00
Saturday: 10:00 to 21:00
Sunday: 12:00 to 18:00

Videos
Payment options
American Express
Cash
Discover
MasterCard
Visa
More information
Established in: 2008
Associations: OneSight
Brands: Arnette, Costa, Emporio Armani, Gucci, Maui Jim, Oakley, Persol, Prada, Prada Linea Rossa, Ray-Ban, Ray Ban Jr., Revo
Products: Designer Mens Sunglasses, Sports Sunglasses, Polarized Lenses, Auto Racing Sunglasses, Baseball Sunglasses, Cycling Sunglasses, Driving Sunglasses, Fishing Sunglasses, Golf Sunglasses, Hunting Sunglasses, Mountain Biking Sunglasses, Running Sunglasses, Tennis Sunglasses, Sand Volleyball, Water Sports Sunglasses
Languages spoken: Sunglasses, Sports, Auto Racing, Baseball, Cycling, Driving, Fishing, Golf, Hunting, Mountain Biking, Running, Tennis, Water Sports, Designer Sunglasses
Services include: Free Shipping & Delivery, Returns, Replacements & Exchanges, Sunglass Care, Lens & Frame Technology, Gift Cards