Pearle Vision
40% off lenses with frame purchase
1077 Branson Hills Pkwy
Ste N
Branson
MO
65616
Find Us: Branson Hills

Tel: 417-336-1801
Web: https://www.pearlevision.com/pv-us/stores/mo/branson/8337/?cid=Yext_8337

36.670656
-93.227454
Accurate to within approximately 300 feet. Click here to see a larger map
Pearle Vision
Caring for you and your eyes since 1961, the eye care experts at your Pearle Vision in Branson provide genuine eye care to you with eye exams, state-of-the-art lenses, and a wide variety of designer frame brands. Always count on clear answers and personal attention. Our commitment will still be going strong long after you leave with your new pair of glasses or updated lenses. We welcome your current prescription, and work with all major health and vision plans including EyeMed, VSP and UnitedHealthcare. Many of our locations are now EyeMed PLUS Providers. Check with your EyeCare Center to see which insurance plans are accepted. Eye exams available at the independent doctor of optometry at or next to Pearle Vision. Doctors in some states are employed by Pearle Vision

Categories: optical instruments & lenses, opticians, sunglasses & sun goggles, optical goods repair & service
Eyeglass Lenses
Your life in the best light
Transitions® lenses adapt to changes in light, so you're never forced to squint or strain your eyes. In any light, they offer the right amount of tint for more clarity and better contrast. They also block 100% of UV rays.
Computer Savvy
If you spend a lot of time on the computer, you know the strain it puts on your eyes. Lenses like PearleTHIN™ HD and PearleTHIN™ HD Workspace can reduce the constant refocusing caused by extended computer usage, and fit in nearly any frame style.
PearleTHIN™ polarized lenses
PearleTHIN™ polarized lenses are lightweight and impact resistant** and improve visual clarity with a polarizing film that helps reduce glare from roads and natural surfaces that filter out unwanted glare with a polarizing film between two layers of glass.


PearleTHIN™ polarized complete
PearleTHIN™ polarized complete lenses offer the same glare reduction, durability and UV protection as the above, but also available in High Definition for advanced clarity.


UV protection sunglasses
UV protection sunglasses help block harmful UV rays and can be combined with your prescription. We recommend that all eyewear block a minimum of 95% of UV-A rays.


Dr. Pearle's Vision
Dr. Pearle's Vision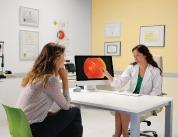 Our passion for delivering genuine eye care began in 1961 with Dr. Stanley Pearle. He founded "Pearle Optical" in a small office in Savannah, Georgia, with five employees and a love of people. His vision was as effective as it was simple:

--The convenience and expert guidance of an eye care professional right in your neighborhood
--On-site prescription eyeglass fulfillment where possible
--The biggest selection of designer frames in town

But Dr. Pearle had his sights set far beyond Savannah. More than 50 years later, Pearle Vision is a household name, synonymous with caring for you and your eyes.

Pearle Vision offers state-of-the-art technology wrapped in a level of personal attention that is second-to-none. It's how we stay true to Dr. Pearle's vision of genuine eye care.

"I'm eager for it to be a good company, with a reputation for service and quality, because that's what I'm all about." – Dr. Stanley Pearle


Additional Contact Information
Fax: 417-336-1803

Opening Hours
Monday: 08:30 to 18:30
Tuesday: 08:30 to 18:30
Wednesday: 08:30 to 18:30
Thursday: 08:30 to 18:30
Friday: 08:30 to 18:30
Saturday: Closed
Sunday: Closed

Other Website Links
Website (Reservation): https://www.pearlevision.com/pv-us/schedule-eye-exam/select-date-time?storeNumber=21054482

Payment options
Cash
Check
Discover
MasterCard
Visa
More information
Established in: 1961
Brands: Burberry, Coach, Converse, Daisy Fuentes, DKNY, Dolce & Gabbana, Essential, Maui Jim, Oakley, Polo, Ralph Lauren, Randy Jackson, Ray-Ban, RIMS, Tiffany & Co, Tory Burch, Vera Bradley, Versace, Vogue, Marc Hunter, Ralph, Eco
Products: High Definition Lenses, Anti-reflective Lenses, Polarized Lenses, Traditional Lenses
Specialities: Prescription Eyewear, Digital Retinal Photos - varies by location
Services include: Eye Examinations, Optomap Retinal Exams - varies by location