CCI Consulting
Integrated HR and Talent Management Solutions
1000 N. West St.
Suite 1200
Wilmington
DE
19801

Tel: 302-793-1193
Web: https://www.cciconsulting.com
Email: info@cciconsulting.com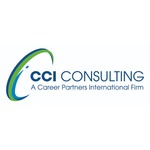 39.7472764
-75.5501414
Accurate to within approximately 300 feet. Click here to see a larger map
CCI Consulting
CCI Consulting understands the challenges organizational leaders confront and will continue to face in the future. Since 1988, we have helped translate these challenges into solutions, enabling organizations to build the capacity to compete not only today, but also tomorrow. Clients trust CCI to help them drive sustainable business results by effectively aligning their people strategies to their current and future needs.

We partner with clients to:
• Attract and retain the right people to achieve business goals
• Enable leaders and teams to elevate engagement, performance, and resiliency
• Enhance the capacity and capability of HR operations and strategies
• Address the constantly evolving talent needs through career development, management, and transition

We help organizations build Resilience, Readiness, and Results.

Categories: human resource consultants, recruitment & staffing agencies, management training
Our Services
Attract & Acquire Talent
We are multi-disciplinary, identifying quality talent across industries, functions, and levels to ensure that your company has the talent needed to drive business results.
Executive Search
Clients engage CCI Consulting's executive recruiter team when their talent need is mission critical, time sensitive, beyond the capacity of an overburdened internal team – or all three. We provide customized retained executive talent search services on a national scale across a broad spectrum of disciplines and industries. Organizations rely on CCI Consulting's executive talent search experts when the search is for managerial and leadership levels, C-Suite leadership positions, and certain other complex or confidential searches.

We recognize that each client, culture, team dynamic, and business challenge is different, so our executive recruiters approach every search as a unique project. Understanding and appreciating the unique elements of each client's circumstance and culture ensures that we deliver qualified candidates with the right competencies, motivation, and fit.

Let's discuss your hiring need and how the search strategy and talent mapping process created by our executive headhunters can help you secure the talent that fits your business need. In addition to assisting with your executive recruiter needs, CCI Consulting can also assist with pre-hire assessments, new leader assimilation, and much more. Contact us to learn more.

Url: https://www.cciconsulting.com/services/attract-acquire/executive-professional-search/

New Leader Assimilation / Onboarding
In today's fast-paced business world, stepping into a new or expanded role is a huge challenge. Expectations are high for both the new leader and the organization. Effective onboarding coaching accelerates a new executive's ability to make an impact and increases the probability of long-term success.

CCI Consulting's New Leader Assimilation process and Onboarding support is tailored to the skills and experiences of the new leader, the context of the role, and the nuances of the organization. For over 30 years, CCI Consulting has been helping new leaders in small, mid-sized, and large companies navigate change as they take on new roles within the organization or from the outside. Our expert coaches will accelerate the performance of your new executive, which will improve the performance of your organization.

The results of a well-planned and carefully managed onboarding program speak for themselves:

- Well-integrated executives reach full performance 33% faster when they go through an effective onboarding program (Harvard Business Review)

- Companies with strong onboarding programs see 2.5 times the profit growth and 1.9 times the profit margin than those that don't (The Boston Consulting Group)

- A new leader assimilation process that is strong can increase retention by 82% (Brandon Hall Group)

CCI Consulting's New Leader Assimilation process and Onboarding process is delivered by assigning an experienced onboarding coach that will work one-on-one with your new leader to ensure a smooth integration into your organization and business environment. When onboarding a new manager, a CCI coach will help your new leader manage change and make adjustments, so they can increase the effectiveness of their teams. Additionally, CCI Consulting can assist with pre-hire assessments, executive recruiting, and much more.

Url: https://www.cciconsulting.com/services/attract-acquire/new-leader-assimilation-onboarding/

Pre-Hire / Needs Assessment
Assessments
CCI Consulting offers a wide range of pre-employment assessments to support and enhance the selection process. Assessments provide additional insight to help organizations secure successful, long-term hires. Pre-employment assessments evaluate critical thinking, cultural fit, cognitive reasoning, and behavioral style.

Competency
We work with you to identify the organizational competencies and position-specific competencies required to meet your objectives. Utilizing competency-based selection processes and behavioral interviews increases the effectiveness of the selection process and provides a framework. This ensures fit with the requirements of the role, the organization and its culture.

Recruit the Right Talent for Your Team and Business
Our pre-employment and needs assessments can give you the insight you need to make strategic hiring decisions that drive your team and company forward.

Url: https://www.cciconsulting.com/services/attract-acquire/pre-hire-needs-assessments/

Spouse / Partner Employment Support
Ensure a successful relocation by supporting the career needs of your employee's spouse or partner.

As top candidates consider acceptance of a job offer in a new location, the impact on a spouse or partner's career can be a deal maker or a deal breaker. Spouse or partner dissatisfaction due to relocation can negatively impact the candidate's future with the company. It can even result in an unsuccessful hire.

Your chances of successfully relocating a key executive increase dramatically when you provide career transition support for their spouse or partner. CCI Consulting has proven success in providing customized spouse job search services to meet the relocating spouse or partner's unique needs.

It can be stressful for a spouse or partner to move and navigate the job market in a new location, but when an organization provides some sort of spousal support, some of these stresses can be alleviated. CCI Consulting's Spouse/Partner Employment Support provides career transition coaching to help the spouse or partner successfully acclimate to a new location, launch his or her job search, and quickly secure employment. Including spouse job search support in the package enhances the job offer and confirms the commitment of the hiring organization to the candidate and his or her family.

Support Successful Onboarding

Our consultants work with the spouse or partner to create and execute a targeted job search strategy that aligns with the spouse's job search goals. Providing this spousal support allows your employee to focus on their successful integration knowing that their spouse or partner has career transition support from CCI.

Url: https://www.cciconsulting.com/services/attract-acquire/spouse-partner-employment-support/

Develop & Coach Talent
We partner with clients to build leaders and teams – creating the capacity, resilience, and competencies needed to achieve business goals and gain competitive advantage.
BEHAVIORAL, CAREER & 360 ASSESSMENTS
At CCI Consulting, we believe that employee behavior assessments and career aptitude tests provide great value and insights. Our access to a wide variety of assessment instruments allows us to provide the most optimal solution and insights for every situation and objective.

Behavioral Assessments Help Improve Individual and Interpersonal Effectiveness
Behavioral or personality assessments are designed to provide individuals with greater insight and understanding of their behaviors and preferences. These insights help increase productivity and the ability to build effective relationships in the workplace.

CCI Consulting's assessment experts have access to an extensive range of behavioral and personality assessments. We work with clients to determine the best way to leverage these tools to provide individual and collective insights that help improve individual, team, and organizational effectiveness.

Career Assessments Help Improve Individual and Organizational Career Decisions
For over 30 years, CCI Consulting has been providing expert guidance that has helped thousands of individuals better navigate their careers. Our career aptitude tests help individuals assess their interests, values and skills to provide clarity and insight to better manage their careers, explore internal career opportunities, ensure alignment between individual strengths and interests and organizational need and opportunity. Career Assessments are ideal for participants in early, mid, or late career who are facing career choices and options, moving up, laterally, or out.

Multi-rater Feedback Assessments Help Individuals and Organizations Meet Their Potential
CCI recognizes that for a leader to be most successful, they require high degrees of emotional intelligence, learning agility, and adaptability. Decades of research shows that leaders who are self-aware and reflect on how they "show up" are more effective at building connections with others and building alignment with teams.

Multi-rater feedback assessments (also known as 360-degree feedback assessments) collect broad feedback about the individual's key work relationships and other constituents. This comprehensive and anonymous feedback helps individuals optimize their perceived strengths and gain insight into perceived areas for development and improvement. Increased self-awareness provides a powerful advantage as organizations seek to amplify the development experience for their leaders and other key individuals.

CCI Consulting has the capability to administer a wide variety of multi-rater (360-degree) assessments and self-report instruments that assess learning agility, leadership style, and emotional intelligence.

Since 1988, CCI Consulting has been helping develop talent, strengthening leaders and improving performance of individuals and teams. Contact us to learn how to utilize employee behavior assessments to create the self-awareness and action that leads to improved performance and effectiveness within your company.

Url: https://www.cciconsulting.com/services/develop-coach/behavioral-career-360-assessments/

Executive Coaching
High-touch, Scalable Executive Coaching
CCI Consulting helps leaders develop and master the skills and behaviors that are required to navigate the complex work environment. Through our executive coaching, individuals move from building awareness to taking action, and focus on what he or she can personally do to facilitate the outcomes they seek.

While each executive coaching engagement is tailored to the client's unique situation, our methodology is anchored in adult transformational learning and behavior theory, active learning, and guided practice. We partner with stakeholders to identify a leadership coaching plan that is outcomes focused and measurable.

The Business Impact of Effective Executive Coaching
- 96% Satisfaction rate among leaders receiving coaching
- 94% Felt better equipped to be a leader as a result of coaching
- 97% Were able to build rapport, trust, and a good working relationship with their coach

(Aggregate survey feedback from participants of CCI Consulting's Executive Coaching, 2000 – 2019)

Our Experienced Coaches Make the Difference

Our team of accomplished executive coaches have served in senior leadership roles and hold credentials that are valued in the coaching profession and supported by the International Coach Federation (ICF). They have worked with hundreds of executives, managers, and high-potential employees from a wide range of industries and possess extensive technical knowledge, hands-on business experience, and an unwavering commitment to client success. Our executive coaching services help leaders master their skills and strategies to increase their impact, increase effectiveness and enhance the value they bring to their organization.

Help your leaders increase their personal effectiveness and ability to achieve business results.

At CCI Consulting, our leadership coaching helps support successful individuals to sharpen their leadership capabilities while helping them gain the necessary skills to be successful not only as a leader, but as a team. Contact Us to learn how our executive coaching services can help your leaders hone the skills and behaviors needed to successfully lead and navigate in today's dynamic business realities.

Url: https://www.cciconsulting.com/services/develop-coach/executive-coaching/

Internal Career Management
Internal career management builds internal talent pipelines and improves employee engagement and retention.

CCI Consulting provides a variety of scalable and customizable approaches that help organizations encourage and support internal career management. As a leading full-service human capital management firm, we bring our extensive knowledge and practical expertise to develop and grow your workforce inside your organization rather than leaving their development up to chance or waiting until they leave to take advantage of opportunities for growth and development at another organization.

We work with organizations to implement customized career development programs that provide the structure, time, and resources for employees to engage in a reflective career exploration. Our career management guidance offers employees the chance to make the right decisions to successfully achieve their goals.

When supporting our clients needs, our internal career management services include:

Group or Individual Programs that provide a forum for career exploration to help your workforce grow with the organization. Programs can be designed to address the needs of those who are early, mid, or late-career. Content and approach is customized to align with organizational culture, goals, and internal resources

Individual Career Coaching as it is ideal for the high potential employee and an outstanding retention tool. Clients find one-on-one coaching to be a valuable approach for helping employees identify their potential and effective exploration where they can best grow and maximize their contribution within the organization.

At CCI Consulting, we've been helping our clients with internal career management services for over 30 years. Contact us today to discuss how we can help you design and implement a customized career management program for your organization.

Url: https://www.cciconsulting.com/services/develop-coach/internal-career-management/

Leadership Development
Leadership development is a key component of a comprehensive and competitive talent strategy.

Successful organizations realize effective leadership is an important source of competitive advantage. They know that increasing the capacity and capability of leaders at all levels positions the organization for greater success and sustainability.

CCI Consulting believes learning and development is a dynamic process that works best when it cultivates creativity, encourages critical thinking, and provides opportunity for people to actively apply new skills. Our leadership coaching transforms leaders from great to exceptional with personalized support and guidance. We work with individuals and teams across all functions and levels in the organization to build and strengthen competencies that elevate performance and achieve business results. Clients value our collaborative approach that leverages existing knowledge and embraces real workplace examples that directly focus on their business needs and realities.

A Proven Partner
CCI Consulting has partnered with hundreds of organizations to implement leadership development programs that provide foundational skills for leaders, allowing them to increase personal effectiveness and improve team performance. We have coached and trained thousands of organizational leaders to help them develop the skills and behaviors that correlate to success in today's complex work environment.

Clients value our emphasis on providing meaningful solutions that are flexible and tailored to meet their unique circumstances and needs. Taking the time to understand and define the dynamics of the organization and the needs of its leaders, we completely customize our leadership development programs so participants feel that the content is relevant to their roles while ensuring that they walk away with tools that are immediately applicable to what they do on the job.

Our effective leadership coaching helps develop, build, strengthen and improve organizations and their talent. Contact us to learn how CCI Consulting can help increase the capacity and capability of your leaders.

Url: https://www.cciconsulting.com/services/develop-coach/leadership-development/

Engage & Grow Talent
We help organizations cultivate a culture that engages, enables, and elevates their workforce through our proven E3 Engagement Survey™, assessments, and tailored action planning.
Culture, Diversity and Inclusion
Embracing diversity and inclusion is a strategic imperative. An organization's approach to diversity and inclusion is either a strategic advantage or a looming risk and liability.

Accepting and encouraging office diversity reduces discrimination, averts workplace harassment, and minimizes the risk of lawsuits. More importantly, a workplace culture that values diversity and inclusion helps attract and retain high quality people from a variety of backgrounds. CCI's organizational culture assessments can be used as a power tool to help unify and connect employees while encompassing your company's core values and mission.

Research shows decision making is improved when there is a diversity of perspectives present in the workplace. Better decision making leads to better organizational outcomes.

In addition, morale increases when everyone feels that he or she is welcome and appreciated, regardless of background. Improved morale leads to improved productivity and performance.

Building an Inclusive, High-performing Culture

Culture is always in the process of formation and change. Building a feeling of identity among those people committed to the organization transcends race, ethnicity, gender, religion, etc. CCI Consulting helps clients create this type of culture through inclusivity training.

We believe the key to a successful diversity and inclusion program is that it not only is aligned to the vision and core values of the organization, but that it also addresses very specific and real behaviors being experienced in the organization. CCI holds expertise in this area and our general approach to this topic is to make sure we are aware of the culture at its most observable level, the lived values, and the underlying assumptions surrounding how relationships work within the current social environment.

CCI Consulting recognizes that building a workplace sensitive to the diversity of background, thought, and contribution is not a one-time event. Instead, it is a process that people go through to change their mindsets and the behaviors they exhibit towards one another. We have worked with many clients around this topic and through our inclusivity training, have helped them achieve great success in creating and sustaining awareness and taking the actions necessary to engage the whole of their diverse workforce.

Drive success with a more inclusive and impactful culture

Organizational culture assessments give our clients an ambitious edge over others. Creating a more inclusive organization not only makes for a healthy company culture, it can also enhance and raise awareness to better understand cultural dynamics that can sometimes affect the workplace. Contact us to discuss the variety of ways CCI Consulting can help enhance the workplace culture of your organization and optimize your talent management strategy by embracing diversity and inclusion.

Url: https://www.cciconsulting.com/services/engage-grow/culture-diversity-inclusion/

Employee Engagement Surveys
Engage your employees to harness the full potential of your workforce. Employee engagement is the emotional commitment an employee has to the organization and the organization's goals.
Employees who are fully engaged will exert discretionary effort, going above and beyond the actions outlined by their job description. CCI Consulting's staff engagement surveys measure the degree to which an employee feels valued within an organization.

Built on the premise of driving action from meaningful data, CCI Consulting's proprietary E3 Engagement Survey™ is based on extensive research and analysis, coupled with the work and theory of respected thought leaders in the field.

The E3 Engagement Survey™ has been utilized by a wide range of organizations across a variety of industries to gain valuable insights into how their employees are experiencing the organization. In each case, CCI Consulting helped the organization leverage the data to define and implement actions that built on their engagement strengths and addressed their challenges. We're different from employee survey companies in that our employee engagement surveys offer functionality, customization and versatility.

Are you wondering if your company is harnessing the full potential of its workforce? An employee engagement survey can help you answer this question! Contact CCI Consulting to learn how we can help you improve business results by improving employee engagement. Our proven results collected from our surveys help you to better understand your employees, providing you with invaluable information to lead you to more fulfilling and successful relationships within your organization.

Url: https://www.cciconsulting.com/services/engage-grow/employee-engagement-surveys/

Organizational Change and Resilience
Change in the workplace is hard but a critical part of business. If people are resistant to, or weary of change, employee morale, customer service, and business outcomes may suffer.

Ultimately, the success of any change initiative is predicated on strong leadership that is centered on the individuals most affected by "the new normal." Leadership means aligning the "what, why, and how" by linking the logical with the emotional. In addition to understanding how to navigate change, people leaders must also have the knowledge and skills to help their direct reports build workplace resilience in the face of everyday changes.

Navigating Change
Given that change is "the new normal" in most organizations, employees need the know-how to manage their own change journey and develop the skills needed to lead themselves through any change, whether the change is common or planned.

Building Individual and Organizational Resilience
Providing employees with the ability to process change that is directly impacting them, while also allowing them to seek out what they need to make the transition from current state to future state, will transform your organization from a culture of resistance to one of workplace resilience.

Our Experience and Expertise
For over 30 years, organizations of all sizes across a multitude of industries have relied on CCI Consulting's expertise to manage and navigate through significant periods of organizational change. Whether a change in the workplace was due to a merger or acquisition, leadership transition, or restructuring, clients count on CCI Consulting to support the organization, leaders, and employees at all levels through the journey.

The range of ways we help:
- Communication and messaging support
- Developing individual and organizational resilience
- Helping leadership teams pace and sustain change effort
- Defining the competencies required to achieve and maintain success
- Aligning HR strategy with the evolving business strategy
- Working with leaders to strengthen, engage and transform their team after organizational change

CCI Consulting can help you survive and thrive in times of change. We have been helping organizations with changes in the workplace for over 30 years. We help identify the key issues to better understand the true nature of resistance. Contact us to learn how CCI Consulting can help your organization improve its ability to engage and focus during times of change and growth.

Url: https://www.cciconsulting.com/services/engage-grow/organizational-change-resilience/

Team and Organizational Assessments
Team and Organizational Assessments provide valuable insights that improve performance.

The first step in increasing the effectiveness of a team or an organization is to gain insight and perspective on the multitude of dynamics that impact performance. Team effectiveness assessments are an efficient and powerful way to quickly gather objective and actionable information that can be used to improve performance and productivity.

Team Effectiveness Assessments

A high performing team is often defined as a group of goal-focused individuals with specialized expertise and complementary skills who collaborate and innovate to consistently produce superior results. Creating and maintaining high performing teams is hard work. Team or group assessments help define the roadmap for improvement by highlighting the team dynamics, level of alignment, strengths, and challenges that are impacting the team. Clients utilize CCI Consulting's ability to assess the various aspects of team dynamics and team performance as the foundation for harnessing the untapped power of teams at all levels, from the C-suite to cross-functional project teams.

Organizational Needs Assessments

Organizations are complex systems that are constantly evolving and adapting to internal and external dynamics. Organizational needs assessments provide useful data and insights about culture and other important factors that aid, or impede, their ability to achieve organizational objectives. Use of these diagnostic instruments offers a systematic process for obtaining valid information about the performance of an organization and the factors that affect performance. Some assessments are designed to provide insight into implications of cultural or structural alignment while other tools assess different aspects of leadership capability or capacity.

Our Assessment Expertise

At CCI Consulting, we believe that organizational and team effectiveness assessments provide great value and insights that can help strengthen an organization. Our access to a wide variety of assessment instruments allows us to provide the most optimal solution and insights for every situation and objective.

Each organization, team, and team member is unique. Because of this, we consult with you to customize our group assessments for your company and scale it as needed. Our assessment experts have access to an extensive range of team and organizational assessments. We work with clients to determine the best way to leverage these tools to provide the insights, increased awareness, and action steps that will improve team and organizational effectiveness.

Utilize a data-driven approach to improve team and organizational success

CCI Consulting's assessments have helped company's identify gaps in leadership skills as well as help to identify the keys to team success. Contact us to learn how team effectiveness assessments can provide insights and a roadmap to improved performance and efficiency for your organization.

Url: https://www.cciconsulting.com/services/engage-grow/team-organizational-assessments/

Manage & Support Talent
Whether you need project-based assistance, are looking for expert guidance to help you achieve and maintain compliance, or want to improve the efficiency and effectiveness of your HR department, we'll work with you to develop the best HR solutions for your business.
Compensation and Benefits
A strategic approach to compensation helps organizations better attract, motivate, and retain employees. Compensation is a major factor in attracting and retaining talent. It is also one of the biggest expenses for any organization. Effective administration of corporate compensation offers requires a balance between the pay levels for employees inside the company (internal equity) and the pay levels employees could command in the company's recruiting markets (external equity).

CCI consulting helps organizations design, implement, and manage executive and employee pay and benefits programs. We work with clients to define a compensation philosophy that provides a framework for their corporate compensation offer decisions.

Leveraging industry-leading compensation databases, CCI Consulting provides salary benchmarking and market pricing data that is directly relevant to each client's strategic compensation plan. This market pricing is used to implement a market-based salary structure in accordance with the organization's compensation philosophy.

Compensation Strategies Tailored to Your Organizational Goals

Contact CCI Consulting to discuss how we can help you evaluate your current pay structure against industry and geographic market pay data, and suggest changes to improve alignment of pay structures with what is needed to attract and retain required talent.

Url: https://www.cciconsulting.com/services/manage-support/compensation-benefits/

HR Compliance
Protect your organization by ensuring HR compliance. Federal, state, and local employment laws are complex, often conflicting, and at times, counter-intuitive. Violations, unintentional as they may be, lead to fines, lawsuits, bad publicity, loss of talent, employee dissatisfaction, and lost business. Mitigating those risks is a key measure of success for the Human Resources function and is critical to the success of the organization as a whole.

Identifying compliance issues and mitigating risk

An important role of Human Resources is to safeguard the company with policies and procedures that ensure legal compliance in HR with federal, state, and local guidelines. Clients often retain CCI Consulting to help them identify and address a variety of potential HR compliance issues before they result in problems.

Two of the most common HR compliance audit requests we receive are for Fair Labor Standards Act (FLSA) audits to ensure compliance with the U.S. Department of Labor's wage and hour requirements and I-9 audits to ensure compliance with federal requirement to verify the identity and legal authorization to work of all paid employees in the United States.

When conducting an HR compliance audit, CCI Consulting reviews documentation and assesses current processes to identify potential gaps of areas of exposure. We then provide guidance to help the client prioritize and implement corrective action. With our support, clients demonstrate their commitment to legal compliance in HR and proactively reduce the potential risk and exposure from compliance related issues.

Third Party HR Investigations

At times, employers are faced with an internal employee complaint, an accusation, a serious rumor requiring attention, or alleged employee misconduct. These situations require an investigation to gather facts, interview parties, review documents, sort out the details, and then summarize findings to assist the employer. Organizations often utilize an independent third party to conduct the investigation because it shows they are concerned with providing fair and objective treatment for all employees.

CCI Consulting has the skills and experience to conduct sensitive internal investigations. We have been engaged by law firms on behalf of their clients as well as by clients directly to investigate issues of sexual harassment, retaliation, bullying, discrimination, and ethical violations.

Although we facilitate the investigation through a structured and consistent process, we recognize each investigation is unique. After completing the investigation, CCI Consulting will deliver a comprehensive report that summarizes the incident, establishes a conclusion based on the facts gathered during the investigation, and provides specific recommendations for resolution (where applicable) and to help protect the organization from future incidents of potential misconduct.

Compliance can be challenging, but non-compliance can be devastating.

Contact us to discuss how CCI Consulting can help your organization mitigate risk by ensuring HR compliance with the myriad of federal, state, and local human resource related requirements.

Url: https://www.cciconsulting.com/services/manage-support/hr-compliance/

Interim HR Staffing
Interim HR support provides capacity, capability, and continuity. Interim HR staffing provides scalable, just-in-time support to meet critical business needs. When someone is out on a leave of absence, the critical responsibilities of the role still need to be handled.

If there is turnover, especially at the senior levels, it often takes longer than expected to fill the position and quality coverage is needed during the gap. Other times, organizations need a skilled HR professional to handle a special project or provide specific expertise. Interim HR staffing is a great way to efficiently and effectively address each of these situations.

Organizations of all sizes across a multitude of industries turn to CCI Consulting to augment their Human Resources function, cover a temporary HR staffing need, or to support completion of a project or initiative. Our HR consultants have broad experience and deep expertise. They are ready to assume any level of human resources temp job responsibilities and deliver on HR initiatives. Support can be scaled from a few hours per month to full-time, on-site support.

CCI Consulting's flexible workforce model allows us to easily design and execute a customized, temporary HR staffing solution for organizations of any size, at any stage of growth. Our interim HR staffing is ideal when you need a human resources professional to:

- Fill-in for an employee on leave
- Cover vacant positions until filled
- Lead or support a specific project
- Augment your current HR staff during a busy period
- Set up the human resources function for start-up
- Human Resources Consulting Services

Need immediate, interim, or project based Human Resource support?

Whatever your need, CCI Consulting has readily available, experienced HR Consultants that can step in to provide immediate, scalable support for any human resources temp job. Contact us today.

Url: https://www.cciconsulting.com/services/manage-support/interim-hr-staffing/

Performance Management
Effective performance management improves organizational performance Performance management is critical to business continuity, and is a key business imperative to align individual expectations with business strategy.

The trend in performance management is to take a more agile approach that reflects the employees' expectations of greater feedback and considers the needs of the multiple generations in the workforce.

Managers are being asked to coach and guide their employees, allowing them to manage performance and their careers. Today's performance management system is a more active and interactive process that demands more frequent conversations, establishing stretch goals, and empowering employees not only for their performance but also for management of their careers.

CCI Consulting's perspective on performance management

We believe structure and systems should be as simple as possible while effectively supporting decision making, planning, and performance monitoring. Performance management processes fail when they are cumbersome and the effort is not equal to the reward or gain for either the employee or the manager. Experience tells us that it is best to build a process and system that is easy to use, sustainable, and simple. The use of the employee performance assessment data should be targeted and effective.

A Partner You Can Count On

Contact CCI Consulting to learn how we can help you develop and implement a practical approach to performance management designed to align individual and team efforts and outcomes with what is required to achieve organizational success.

Url: https://www.cciconsulting.com/services/manage-support/performance-management/

Strategic Planning
Strategic corporate planning is a focusing effort that helps organizations clarify and define what they are looking to achieve.

Defining goals and priorities helps align organizational focus and determines how resources will be deployed. Creating a corporate level strategy provides a clear purpose and focus, helping align the efforts of employees and other stakeholders on common goals and outcomes.

Rarely does real change occur in big bursts. More often, change sticks when small efforts are attempted, acknowledged, reinforced, and repeated. CCI Consulting's "Three Horizons" approach helps clients translate a corporate level strategy into an easy-to-communicate roadmap that links today's and tomorrow's actions to long-term goals. Putting context around the plan, pacing the effort, and setting interim goals helps increase commitment, improve the effectiveness of implementation, and increases the likelihood of achieving strategic goals.

A Practical Approach to Strategic Planning

At CCI Consulting, we believe an organization's ability to achieve its business strategy is predicated on mobilizing the talent required to successfully execute the strategy. Since the people side of the equation may well be the single most important element that differentiates an organization from the competition, our strategic planning consultants focus on helping clients align their people strategy with business strategy.

CCI Consulting's approach to strategic corporate planning is designed to create a well-constructed plan that can be easily communicated and cascaded throughout the organization. Our strategic planning consultants recognize that for the plan to be effective, it is critical to translate the vision and strategy into a detailed discussion about goals, expectations, and required actions. This critical component aligns and focuses individual and collective efforts throughout the organization and makes the plan actionable by all.

From Strategy Formation to Execution, CCI Consulting Can Help

Contact us to learn how we can help you build strategic people strategies that drive your business forward.

Url: https://www.cciconsulting.com/services/manage-support/strategic-planning/

Optimize & Transition Talent
We provide organizations the support they need to transform and transition their workforce, from moving key people into new roles to helping exiting employees move on to their next career opportunity or plan for retirement.
Career Development and Transition
Retain and engage your employees by helping them grow with you.

In most organizations, the most valued employees are high achievers who exhibit energy and drive for professional growth. If they don't see a career path and receive the leadership coaching that will allow them to realize their full potential, many will look elsewhere for opportunities. Consider that:
- 87% of millennials and 69% of others rate "professional or career growth and development opportunities" as important in a job. (Gallop, 2016)
- Retention is 3x higher when employees see opportunity for career growth. (CCI Consulting, 2018)
- Nine in 10 employees are open to new career opportunities and 67% might be actively seeking them right now. (LinkedIn, 2017)

At CCI Consulting, we believe organizations maintain a competitive advantage when they deliver unique and innovative internal career management programs that not only support and nurture early careerists, but also offer options for career development throughout their tenure.

How CCI helps employers provide career development
We work with organizations to implement tailored career development paths that provide the structure, time, and resources for employees to engage in reflective career exploration. Through this process, participants:
- Become more engaged and more likely to stay and grow with your organization
- Enhance awareness about what they need to maximize their growth within the organization
- Gain greater confidence in their personal value and potential within the organization
- Develop a personal plan for approaching internal opportunities that align with their career goals

Impact of Career Development

By providing your employees with career development plans, you will be addressing and supporting your employees' desire for ongoing growth and development, while also creating an environment where employees demonstrate greater commitment to team and organizational goals and drive their own performance. Additionally, employees who are on a path toward career development are more likely to innovate, share what they know and coach others, exhibit stronger customer service, and maintain a positive outlook.

CCI Consulting has been creating internal career development programs for companies of all sizes for over thirty years. Contact CCI to learn how we can use this approach to create customized career development and career management programs for your organization.

Url: https://www.cciconsulting.com/services/optimize-transition/career-development-transition/

Outplacement
Transitioning employees to the next steps in their careers. Job loss is one of the top 10 most stressful life events. The immediate impact on the employee and family can be very real and the long-term impact of extended job loss can be even more significant.

Providing experience and expertise in Career Transition

Each individual's career transition is a unique journey. Clients trust CCI Consulting to provide a portfolio of service offerings designed to provide appropriate career coaching and transition support for employees at all levels and tenure. We provide a wide array of services and personalized consulting to position individuals for future success as they transition to new jobs, entrepreneurial opportunities, or active retirement.

Our programs are designed to provide support to individuals as they initiate, maintain, and successfully conclude an intensive job-search effort. We lead the participant through a structured yet flexible process that achieves results.

Url: https://www.cciconsulting.com/services/optimize-transition/outplacement/

Retirement Transition
Helping employees retire successfully.

Demographics in the U.S. and other developed nations point to an aging population as varied as the general workforce. Some choose traditional retirement paths while others seek options allowing them to remain engaged and involved with their careers. Employees are remaining with their organizations longer and rarely plan for disengagement and how to transition to retirement. This lack in retirement planning is leaving a void in workforce planning, impacting succession and critical knowledge transfer, not to mention employee engagement and organizational performance.

- By 2024, 1 in 4 U.S. workers will be age 55 or older…up from 11% in 2000… by 2030, 1 in 5 U.S. workers will be 65+
- 83% of companies report having a significant number of employees at or approaching retirement age (Deloitte, 2018)

Retirement transition and coaching support
CCI Consulting's Retirement Transition Support helps employees prepare for retirement so they can enjoy the next chapters of their lives while it helps employers prepare for a changing workforce. Retirement transition marries the need for workforce and retirement planning with employees' need to think about next steps. By engaging employees and the organization in a meaningful conversation, we promote the dialogue and planning that drives better outcomes for all.

We help organizations honor the legacy and contributions of older workers while also preparing them for retirement and the organization for transition. Our programs and methodology ensure that late-stage career employees will feel valued for their work and supported in their journey, while the organization can more effectively address succession planning, knowledge transfer and continuity.

For over thirty years, the CCI Consulting team has been providing small, mid-sized, and large companies with helpful and effective services that help make the transition to retirement easier for both the employee and the organization. Contact us today to learn how our team can help your employees successfully prepare for retirement.

Url: https://www.cciconsulting.com/services/optimize-transition/retirement-transition/

Succession Planning
Succession planning is the foundation for organizational growth and sustainability.

Succession Planning is critical to business continuity, and it is a key imperative in aligning your people strategy with your business strategy. Ensuring that the right people are in the right place for the future through an active focus on business succession planning allows an organization to respond to growth opportunities, improve organizational performance, and create business continuity.

Because it is common for small, mid-sized, and large companies to be unsure of how to prepare for succession planning, CCI Consulting partners with organizations to help them identify a clear succession planning process. Our role is not to provide our client's with a pre-designed solution, but rather to understand and create models that align with each one of our clients' organizational goals. Our succession planning experts take a systematic, integrated approach to business succession planning to ensure that our client's talent requirements, skills assessments, development processes, and solutions are tightly linked to their business imperatives.

Ready to take your succession planning strategy to the next level?

For over thirty years, the team at CCI Consulting has been providing companies in all industries and of all sizes with effective and successful business succession planning services. If you are a small, mid-sized, or large organization that does not know how to prepare for succession planning, contact us today to learn more about how our team will develop a strategic succession plan for your organization.

Url: https://www.cciconsulting.com/services/optimize-transition/succession-planning/

Workforce Planning and Strategy Alignment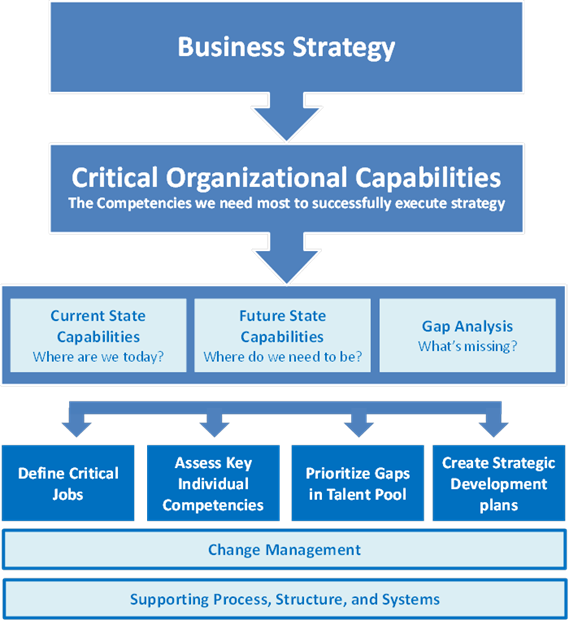 Translate your business strategy into a talent strategy.

An organization's ability to achieve its business strategy is predicated on mobilizing the talent required to successfully execute the strategy. The people side of the equation may well be the single most important element that differentiates an organization from the competition. Talent is critical to business continuity, so aligning the people strategy with business strategy is a key business imperative in workforce planning.

Workforce planning and strategy alignment

CCI helps organizations identify clear outcomes. Our role is not to provide a pre-designed strategic planning solution, but rather to understand and create people processes and approaches that align with organizational goals.

Creating a talent strategy that aligns with the business strategy helps to smooth succession planning, increases the organization's ability to respond to growth opportunities, and improves the overall performance of the organization.

Url: https://www.cciconsulting.com/services/optimize-transition/workforce-planning-strategy-alignment/

Opening Hours
Monday: 09:00 to 17:00
Tuesday: 09:00 to 17:00
Wednesday: 09:00 to 17:00
Thursday: 09:00 to 17:00
Friday: 09:00 to 17:00
Saturday: Closed
Sunday: Closed

Pictures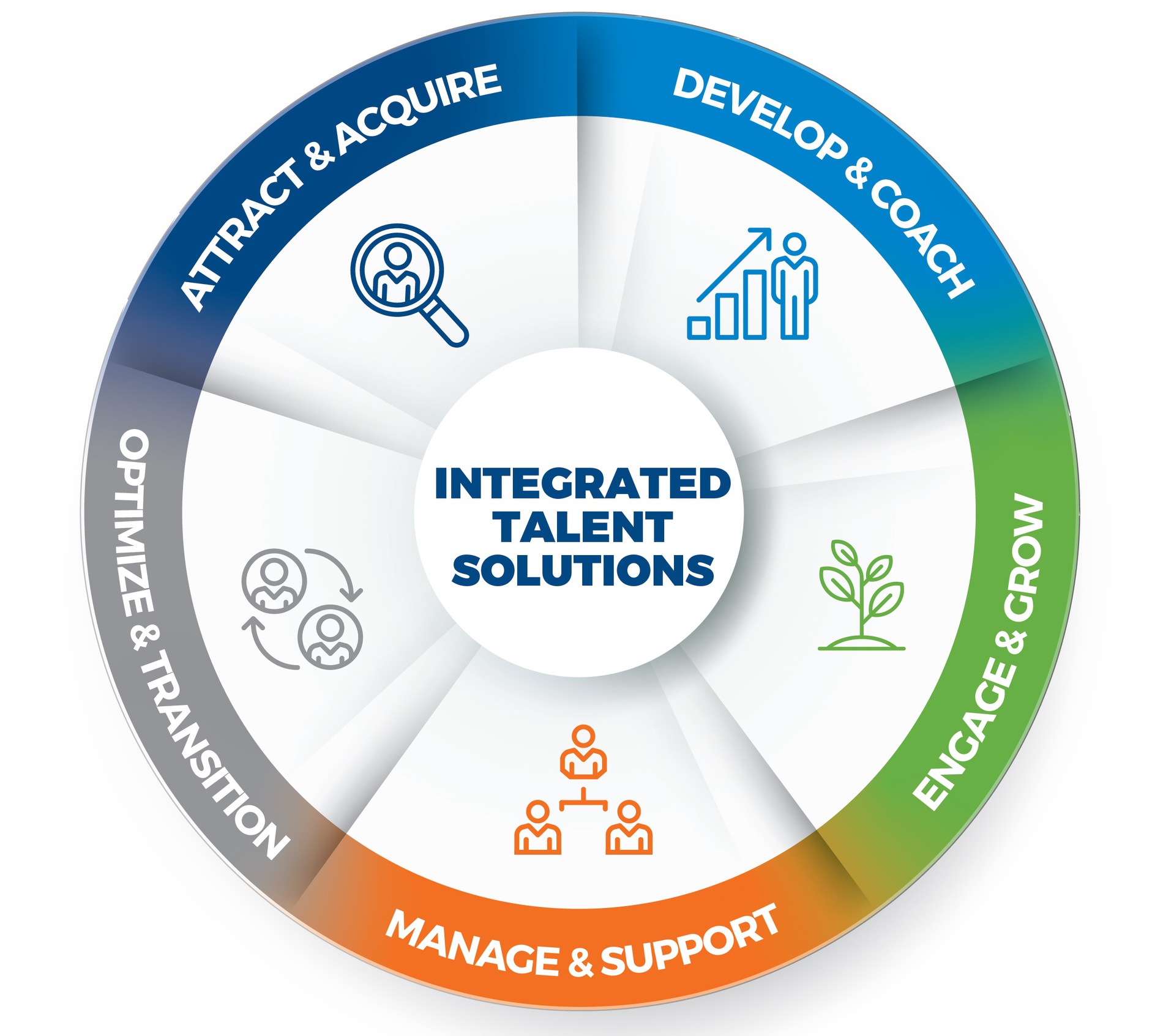 More information
Established in: 1988
Services include: Hr Consulting, Executive Search, Talent Development, Outplacement, Employee engagement surveys, Executive Coaching, Leadership Development, HR audits and investigations, Interim HR staffing, Performance management, Workforce planning, Internal Career Development, Executive Recruitment, Compensation and Benefits