Armentrout Accident & Injury Law
Free Consultation - Call Today!
2 South Main St. Room 301A
Harrisonburg
VA
22802

Tel: 540-564-1466
Web: http://www.thevirginialawyers.com/
Email: armentrout@thevirginialawyers.com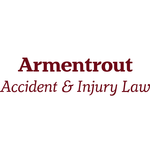 38.4492382
-78.8683577
Accurate to within approximately 300 feet. Click here to see a larger map
Armentrout Accident & Injury Law
Armentrout Accident & Injury Law is a law firm dedicated to helping the residents of Harrisonburg, Virginia and surrounding areas with legal matters regarding personal injury, workers' compensation, social security disability, and civil rights / employment law. Founding attorney Terry Armentrout has over 25 years of extensive legal experience. Mr. Armentrout uses his years of experience and knowledge to provide high quality legal representation that his clients seek and deserve.

If you are looking for a law firm that will work hard for you, call Armentrout Accident & injury Law today to schedule a free initial consultation!

Categories: attorneys
Additional Contact Information
Alternative Phone: 1-800-463-7670
Fax: 540-434-7929

Opening Hours
Monday: 09:00 to 17:00
Tuesday: 09:00 to 17:00
Wednesday: 09:00 to 17:00
Thursday: 09:00 to 17:00
Friday: 09:00 to 17:00
Saturday: Closed
Sunday: Closed

More information
Established in: 1988